WAIT! Your Order is Not Complete...
FunnelStak Customers Only - Check out this One-Time Special Discount Offer
Simple 60-Second Hack Turns ANY Website into an Engagement,

Trust-Building, Customer-Retaining, Sales-Boosting Machine!
Capture Voice & Video Messages on Your Website from Visitors & Customers.
Build an Email Marketing List

Gather Honest Feedback

Collect Customer Testimonials

Provide First-Class Support
Grab Charter Access of VoiceStak Today!
Limited-Time LIFETIME Pricing Expires In…
VoiceStak is Simple & Easy to Use!
Website Visitors & Customers Leave a Message
In 3 Easy Steps with Nothing to Install or Download
Review Messages from Your VoiceStak Inbox or Mobile Device…
The Ultimate Branding, Marketing & Support Software
Enhanced By The World's Most Powerful Features!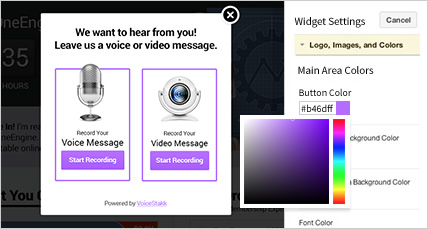 Customizable Widget Designs:
Add one of our customizable widgets to any page(s) on your site.
Have your widget always visible to the visitor by locking it on the bottom of your website.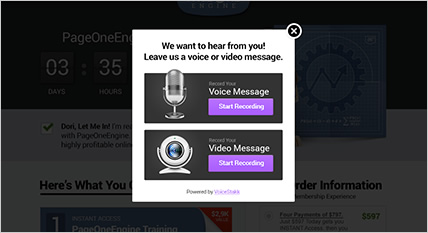 Triggered Widgets
Have the VoiceStak box pop-up on literally any image, button or link on your website.
SMS Integration / Marketing:
VoiceStak integrates with all of the popular SMS and Email Marketing platforms so you follow up with via email and text message.
* standard text message rates do apply
Start building a massive list – turning visitors into loyal subscribers with our email auto-responder integration. Automatically add visitors to your email list when they send you a message.
VoiceStak integrates with all of the popular email providers, including…
Connect your YouTube account, which allows you to automatically upload video messages directly to YouTube, for easy embed onto your website. Perfect for video testimonials and social proof."
VoiceStak provide you a light-weight piece of Javascript code that you simply paste onto your website.
Works great with literally any type of site…
Easily monitor the number of captured messages by Date and/or Campaign/Widget to gauge visitor/customer engagement.
100% TCPA & FCC Compliance
VoiceStak has taken the necessary measures to ensure that our app meets the legal guidelines and regulations of the Telephone Consumer Protection Act, mandated by the FCC."
Free Upgrade for Charter Members!
Visitors using a iPhone or iPad will be able to easily download the iOS app to their phone to leave a voice or video message.
Why Should You Care About Customer Engagement?
It impacts every aspect of your business...
When asked about the impact of Customer Engagement on their Business:
Companies cannot remain competitive by simply providing a product/service. They must provide an exceptional customer experience!
Welcome to the New Rules of Customer Engage!
You have two decisions...
EVOLVE & PROFIT
DO NOTHING & CRUMBLE
Make the right choice. You can start by investing in VoiceStak Today!
See How VoiceStak Stacks Up Against The Rest...
If you are not completely satisfied with your purchase within 30 days of buying VoiceStak, we will refund 100% of your money, no questions asked. Just email us at support@voicestak.com and every penny will be gladly refunded to you within the first 30-Days. NOTHING could be more fair than that!
Grab Your VoiceStak Charter Access Right Now
Special Pricing Available for a Limited Time
One Time Special Discount Offer!
Unlimited Personal Sites (charter members only)

Real-Time Playback & Download

Unlimited Messages (charter members only)

Email Integration

Unlimited Storage (charter members only)

SMS Integration

Widget Design & Customization

Help-desk Integration

Up to 5 Minutes / Message

Nothing to Install or Download

Capture Voice & Video Messages

Lifetime Updates & Support (charter members only)
Listen & Watch Real Visitor and
Customer Messages, Captured Using VoiceStak…
Some Common Questions and Answers
Are there any limitations in terms of number of widgets or sites I can use VoiceStak on?

No! You can create an unlimited number of campaigns and widgets that can be used on as many personal websites as you want.  You can collect an unlimited number of messages from each widget you create.

Are the VoiceStak widgets mobile responsive?

Yes! All of the widgets are responsive, which means they will look great on any screen size or mobile device your website visitors are using.

Will I get a free update when the iOS app is released?

Yes!  All charter members who purchase before August 27th will receive a free upgrade when the iOS application is ready.

How long do you store the audio and video messages in my account?

All audio messages are stored for 60 days.  All video messages are stored indefinitely on your YouTube account.

How long will the lifetime pricing option be available?

The lifetime option will be increasing in price during the launch. After August 27th, the lifetime option will be removed and you will only be able to purchase a subscription.
Grab Your VoiceStak Charter Access Right Now
Special Pricing Available for a Limited Time
One Time Special Discount Offer!
Unlimited Personal Sites (charter members only)

Real-Time Playback & Download

Unlimited Messages (charter members only)

Email Integration

Unlimited Storage (charter members only)

SMS Integration

Widget Design & Customization

Help-desk Integration

Up to 5 Minutes / Message

Nothing to Install or Download

Capture Voice & Video Messages

Lifetime Updates & Support (charter members only)